Fiberglass Pools VS. Vinyl Liner VS. Concrete Pools

If you've decided it's time to look into getting a swimming pool installed in your backyard, you're going to need to know some of the main differences between fiberglass pools, vinyl liners, and concrete pools. Ultimately, the decision will come down to what you prefer and what suits your needs. If you still have questions, be sure to contact your pool installation and renovation experts at Tropical Pavers and Pools.
FIBERGLASS POOLS
The fiberglass pool installation process begins with digging a hole where you need the pool to be. A gravel foundation is placed giving your fiberglass pool a solid base to rest on. The pre-built fiberglass pool shell is then placed in the ground. This type of pool is known for its durability and low cost of maintenance. Below are just a few of the benefits you can expect from fiberglass pools.
Quick Installation – Because the fiberglass shells are pre-built, fiberglass pools can be installed relatively quickly.
Durability – Since there's no liner on the inside of a fiberglass pool like vinyl pools, you'll never have the need to replace it. These liners can be costly and are damaged easily.
Aesthetic appeal – Over the past several decades, fiberglass pools have gone from having a dull "bathtub" appearance to being some of the most stylish pools on the market.
Built-in features – Another benefit of fiberglass pools is that they have features like stairs already built into the pool. This way, you'll know exactly what you're getting.
VINYL LINER POOLS
A vinyl liner pool is made of wall panels, the pool base, vinyl liner, steps, and coping. Vinyl liner pools are often seen as the "budget" option, meaning they'll have low initial costs and low installation costs. However, they'll lag behind fiberglass and concrete pools in terms of quality. Below are several of the pros and cons of this type of pool:
Highly customizable – Vinyl liner pools allow for a lot of freedom in terms of depth, length, width, and stairs. Since you won't be choosing from a predetermined set of pool shells like with a fiberglass pool, you'll have more options as to how you want the pool to be designed and what features it will have.
Low initial cost – These pools are affordable to install and maintain for the first couple years.
High maintenance cost – Every 5-10 years, you'll need to replace the vinyl liner. This often costs up to $4,000, which is much higher than any maintenance you'll need for concrete or fiberglass pools. Additionally, the vinyl liner can become damaged easily, so it's not unusual to have to replace it more frequently. As a result, warranties on vinyl liner pools are not very good.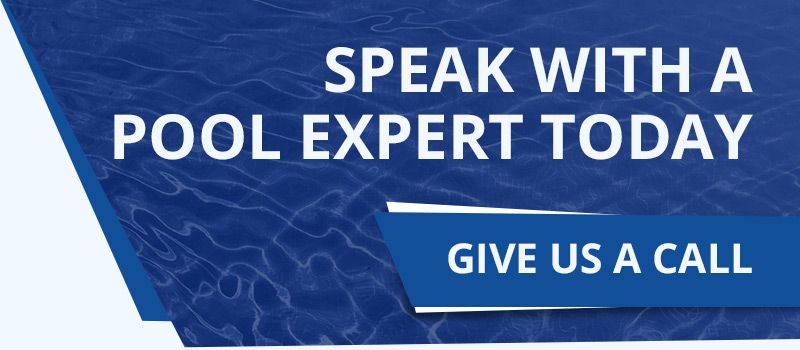 CONCRETE POOLS
Concrete is a mixture of stone or gravel, sand, cement, and water. To create a concrete pool, gunite or shotcrete is used to make the concrete pool shell. These materials harden through a process called curing. As you can imagine, the greatest threat against this type of pool is cracking. That's why a steel web is used to make the pool more solid and allows it to bend slightly without cracking.
Higher lifetime cost – Every 10 years or so, your concrete pool will need to be resurfaced and retiled which may make it more expensive over time.
Longer installation time – Due to the hardening process of gunite, concrete pools can take several months to be installed.
Durable and customizable – Concrete pools won't get damaged easily and are one of the most versatile types of pools.
As you can see, each type of pool comes with its pros and cons. What fiberglass pools lack in versatility, they make up for in quick installation times, durability, and low maintenance costs. Vinyl liner pools have very low initial costs but high lifetime costs. Finally, concrete pools have a high degree of customizability, but like vinyl liner pools, can have higher maintenance costs.
If you would like more information about each type of pool, call your local pool experts in Southwest Florida at Tropical Pavers and Pools. We'll help you choose the right pool for your budget and preferences.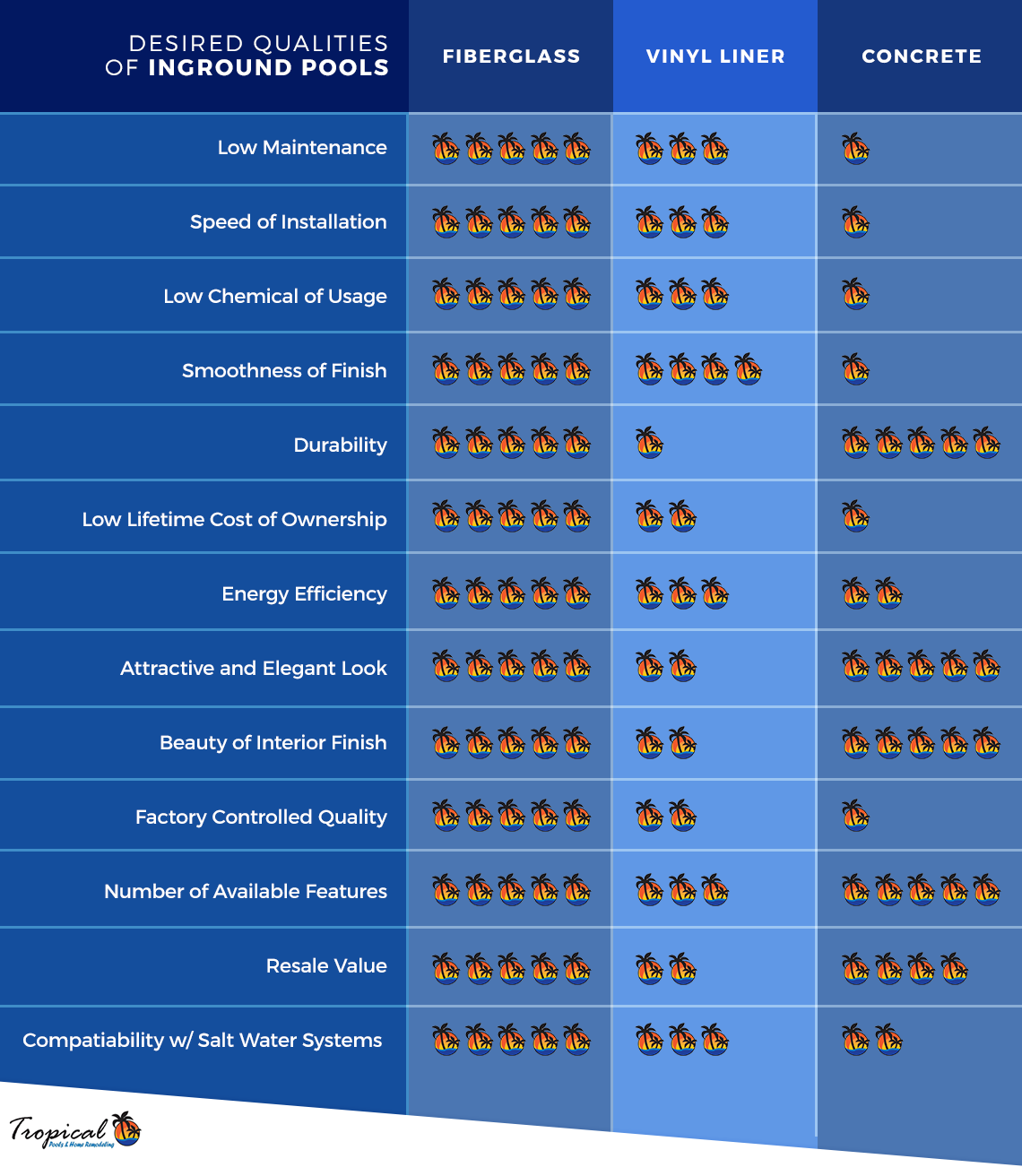 GET FREE INFORMATION & A QUOTE TODAY!